The distinctive taste of Italy can be found from the rich bounty of produce; and the 'terra', i.e. the ground in which the seeds are sewn and trees and crops grow. Three generations ago, in the fields of Emila between Reggio Emilia and Parma, the farmers that would become Molino Denti decided to provide the flavours of traditional Italian wheat and grains to the masses, inspired by their love of good food and the passion key to true Italian cooking, creating what would become a range of delicious flours and mixes; that are sold today.
Time goes on and now the farmers of today's generation are millers, working actively with two functioning mills, based in Borzano of Albinea (RE) and Vicofertile (PR). That said, Molino Denti have not forsaken the methods of their past, maintaining the respect for the land which their forefathers cultivated for many years before. Thus, they make any initial selection of grains to use in their flours with a human eye, selecting only the best produce from their harvests to grind down the grain. With increasing demand for high-quality produce, their eyes are aided by automatic analysis, undertaken by sorting machines; which increase the overall output at the plant which generates approximately 700 tons each day.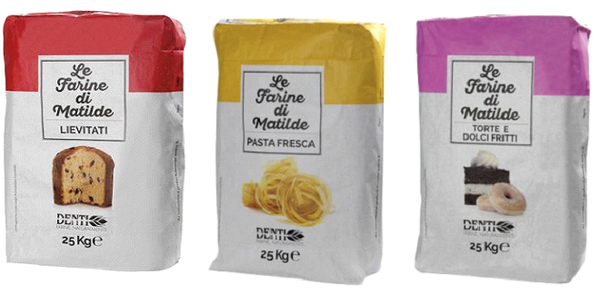 Molino Denti work actively with the retail, business, bakery, catering and industrial environments; knowing that a different consistency and texture of flour is sometimes necessary, in order to make different produce; with exceptional quality. Their growing range of 300 mixes and fifty different flours have been used by professionals to bake fresh pane bread at local and chain bakeries, indulgent biscuits, pastries and cakes in the patisseries, and authentic pastas and pizzas worldwide. The company have also invested in a laboratory in recent years to develop a 'Farina Free' line, thus expanding their range for the gluten free market.

Molino Denti will be attending London 2017! Don't forget to register for your ticket today.