2017's Bellavita Expo in Warsaw will be a platform for professionals to gain exclusive insights into the Italian food and beverage market, learning from key players, opinion leaders and chefs about what is currently trending and the best available produce. Headlining the masterclasses will be Italian-born chef Andrea Camastra, proud owner of one of only two restaurants in Poland to receive the prestigious Michelin star. Ahead of his class 'When the Italian Cuisine Seduces the Polish Taste', Bellavita caught up with him to discuss all things food and Bellavita.

Bellavita: Why did you move to Warsaw?

Andrea: The reason I decided to put roots down in Poland is rather romantic, I came looking for something new after previously spending time learning in the UK and across Europe and then I met my wife who is Polish… but also because in the last few years I have seen a very strong economic advancement in this country. Also, it is a very civilised place, quiet and clean, making it a pleasant, peaceful place to work.

Bellavita: What makes your cooking style unique?

Andrea: At Senses, our cuisine is characterised by flavours and aromas that are very intense… what is fundamental throughout is our creativity and the very latest technology we use… we also have a culinary science laboratory where scientists work on new developments and innovative techniques using cutting-edge gastronomic gadgets! My most trusted scientist Wiktor Faliszewski will be with me on the stage of Bellavita during my masterclass!!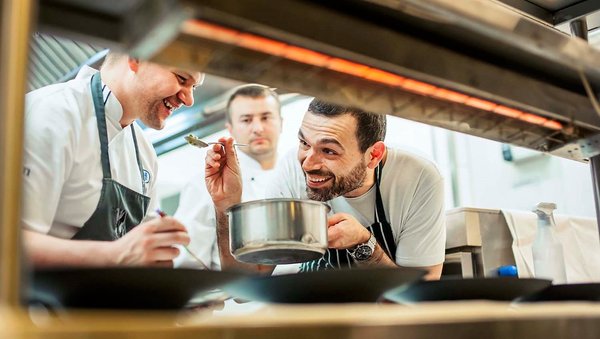 Bellavita: Coming from an Italian and French background, was it easy to adapt your dishes to suit the Polish palate?

Andrea: I have to say it is not really easy to make the medley of two tastes meet each other, but we eventually find a way to create dishes that are a fusion between Polish and Mediterranean cuisines. This way, Polish consumers can find familiar flavours but cooked in different ways, the Italian ways, that I think are more sophisticated and neat.

Bellavita: What are the latest food trends you are experimenting with? What can people expect from your masterclass?

Andrea: I would love to leave this as a surprise for the big day! However, I will cook both a traditional Italian recipe adapted to the Polish taste, but also something originally Polish adapted to the classic Italian standards. I think fusion between cuisines is definitely the future for chefs! When done with subtlety and a full understanding of flavour, you can create harmony. We should remain mindful, however, as we can not chase after the fashion, just for taste.

Bellavita: What do you expect from a trade show like Bellavita? What inspired you to get involved?

Andrea: For me, the international Bellavita Expos are something very important in the culinary world so I am incredibly honoured to be one of the chefs on stage… I saw the big names who were on stage in all the international editions of Bellavita before me and I think it has just become a dream to be part of it! I am sure that for the whole atmosphere that Bellavita can create around food and beverage, that for me it would be like spending three days in Italy, the most beautiful and tasteful country in the world!!!

Andrea's masterclass at Bellavita Expo Warsaw on Wednesday 12th of April.