Trade relationships between Italy and Germany are historically strong. Germany is today the main trading partner for Italy as far as the agri-food and beverage sector is concerned and Italy comes in second in the ranking of Germany's suppliers of food and beverage products, right after their neighbour Netherlands.
According to statistics, the first quarter of 2018 saw a significant increase in German imports from Italy compared to the previous year (+ 19.74%) for a total value of about 108 million euros.
Wine is the most popular Italian product: in the first six months of 2018, the export of Italian wine to Germany grew by 3.5%. Particularly, prosecco and spumante – especially Franciacorta – grew by 8%.
Pasta has always been the most imported Italian product worldwide: a recent study found that Italian companies sell the 56% of the pasta that they produce to around 200 countries, with almost three quarters (71%) of the exported volume destined for European countries. Germany is one of the most important markets for Italian pasta, with an increase of 5% from 2014 to 2017.
Particularly noteworthy is also the 10% increase of Italian cured meat consumption in Germany in 2017, with Germany being the first EU market of destination of Italian meats with over 33,857 tons (+ 3.2%) and € 329.8 million euro (+ 10.2%).
As far as cheese and dairy products are concerned, the imports of Germany reached a value of 3.7 billion euros in 2017 with the Netherlands being the main supplier, followed by France and Italy. The total value of Italian dairy products exported to Germany in 2017 is 408 million euros (with a market share of 10.8%). According to statistics, in the first three months of 2018, the volumes of mozzarella and ricotta exported to Germany saw an increase of 12%, whereas Parmigiano Reggiano and Grana Padano increased by 2%.
One of the most popular desserts worldwide, Italian gelato is the most consumed and appreciated frozen dessert in Germany. Local consumers are, however, increasingly more interested in non-dairy alternative ice-creams, due to the more developed health consciousness amongst the youngest generations. Italy is, therefore, taking a giant step in the production of non-dairy and vegan gelato in order to keep pace with the market trends.
Italy steps on the podium of the exporting countries of mineral water as well. Precisely, it comes in second right after France, thanks to the contribution of universally recognised brands such as San Pellegrino and Panna. Over the last five years, the import of Italian mineral water has considerably increased, both in terms of volumes and turnover, and Germany is now the third market after USA and Canada. The volume of water imported by Germany from Italy increased by 5% and Italian bottled water is by far the most common international water on German restaurant menus.
To get a bigger picture, Bellavita has recently conducted a survey amongst 50 restaurants in Hamburg – the second largest German city in terms of population – and its surrounding areas. The chosen sample includes restaurants having at least one Italian product on their menus.
The results tell us that there is a great abundance and a fair variety of Italian cheeses, with both Parmigiano Reggiano and mozzarella enhancing over a half of the examined restaurants. Prosciutto crudo di Parma and speck from South Tyrol are most common cured meat, whereas excellent is the performance of Italian wine – particularly Chardonnay grape varieties such as Franciacorta – but also Italian spirits and liqueurs , with Fernet Branca leading in the bitter sector. Finally, it is not surprising that pasta and pizza are amongst the most popular foods on the menus.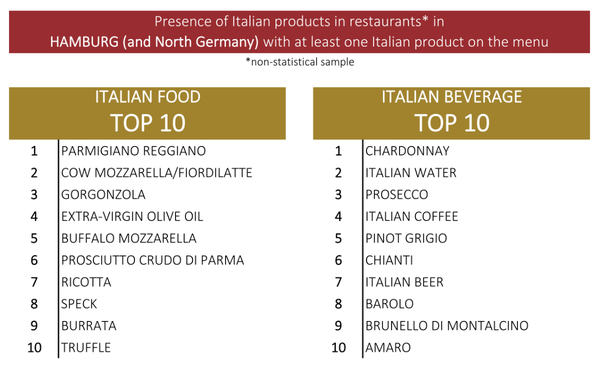 Are you interested in exhibiting at Bellavita Expo Hamburg (16-19 March 2019 at Internorga)? Email us at [email protected]